Hello, let me introduce myself. My name is Tammi.
I have never done a blog before. I was encouraged to create one by a friend of mine as I will be going through a life changing event. I am going to have weight-loss surgery in the form of a gastric bypass in May 2016. I hope that this blog will help others in their journey and give inspiration and courage to all. I will be opening myself up to the world by doing this and I am a generally private person. This is hard for me to do and hope that it will get easier as time goes on. I just want to share in my experience to perhaps help others who may be going through the same thing or are also thinking about having weight-loss surgery.
I am generally a light-hearted person and upbeat. So this blog will not be filled with doom and gloom or with anger and hate. I hope to share the upcoming joy that is sure to come after the surgery and share some of what it is like getting ready for such a major step in my life.
Welcome to my blog, my life, my journey.
"Suited to reverent occasions, the white rose is a fitting way to honor a friend or loved one in recognition of a new beginning or a farewell. Their pure color conveys respect, pays homage to new starts and expresses hope for the future." ~Quoted from ProFlowers.com~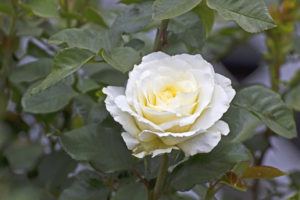 Thank you.
I have decided to start keeping track of my weight loss on this first page. I will update as I get weighed.
419 – Starting weight in November 2015 when I had my first nutritionist visit.
412 – Early December visit.
412 – January 2016 visit ~ this is what happens when you spend Christmas with your family and eat all the family meals over the holidays. But at least I maintained my weight.
402 – February visit ~ back on track!
394 – March visit ~ under 400 pounds! Yay!
399 – Early April visit and last nutritionist visit ~ Easter happened….I admit I am a chocoholic. My parents came to visit and brought some Easter chocolate with them. I thought I could handle it and just eat a little at a time. Nope….
394 – April 28th ~ Had an appointment with my bariatric doctor – yes it was a different scale, but should only be off by a pound or two. Either way, it shows I am back on track again!
May 12th 2016 – SURGERY
378 – May 25
377 – June 06 (started using a scale at home, so numbers will be a bit off from other scales)
372 – June 14
369 – June 19
361 – June 23
356 – June 27
349 – July 06 (I have now lost 70 pounds total!)
345 – July 15
341 – July 27
334 – Aug 06
327 – Aug 22
322 – Sept 03
318 – Sept 24 (101 pounds total lost!)
302 – Oct 24
299 – Nov 06
296 – Nov 16
288 – Dec 28
284 – Jan 02, 2017
280 – Jan 23
271 – Feb 16
266 – March 20
257 – April 18
254 – April 29
250 – May 12 (one year anniversary of the surgery)
242 – June 18
238 – July 23
2018
202 – March 10